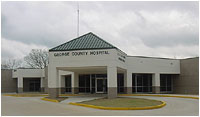 The citizens of Lucedale and George County have access to a full range of healthcare options right here at home through George Regional Health System!
Our roots began in 1950 when George County Hospital opened with room to care for 26 patients. Today, George Regional Health System serves the people of George County and the surrounding region with a community-owned, not-for-profit hospital, a regional network of primary and specialty care facilities, and an experienced group of physicians. We offer a wide variety of comprehensive medical services ranging from convenient clinic visits and outpatient testing to more comprehensive impatient and rehabilitation services.
We are proud of our rich history of supporting the community and thrilled that we've been successful in our mission of servicing the healthcare needs of George County and the neighboring region.
For more information about George Regional Health System, please visit our website or call 601-947-3161.
Also available in Lucedale are several nursing homes, assisted living care facilities and home health agencies.
George Regional Health System has several locations to serve you! Find your location in the list below:
George County Pharmacy
The Wellness Center